Mesh Panel Systems
If you're in need of an affordable and efficient wire fencing system to increase the overall security and safety of your business, our wire mesh panel systems are an ideal choice.
MasterView mesh systems offer a range of security focused systems for all budgets and is fast becoming one of the most popular fencing types in the UK.
Originating from the EU, mesh systems provide some of the most secure perimeter protection without compromising on visibility through the fence.
MasterView Mesh System Profile is the most economical mesh system within the MasterView range. Available in 3m wide panels which makes installation quicker and also more of an economical perimeter fencing product.



MasterView Mesh System Twin Lite has 2 horizontal wires sandwiching 1 vertical wire, this system increases cut through times, offering greater security than MasterView Profile.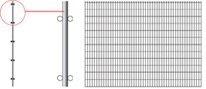 MasterView Mesh System Twin 868 is similar in appearance to Twin Lite, but boasts a much heavier wire configuration. Posts and fixings are also substantially more secure, which increases cut through times, offering superior security than MasterView Profile and Twin Lite.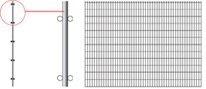 MasterView Mesh system 358 is the most secure within the MasterView range and one of the most formidable security fences available today. MasterView 358 is found where security is paramount and is the preferred choice for high security facilities such as prisons and airports.
Available in Galfan only or pre-galvanised and powder coated finishes.





MasterView mesh systems are pre-galvanised before manufacture and polyester powder-coated to BS 1722 Part 16 (BS 6497) providing an architectural coating of 60 microns minimum. This greatly extends the life of the fence.
Gates
MasterView gates are available for all MasterView Mesh Fencing Systems.